Base of his art
This page is under construction. Sorry.

Heiner lammers and concrete painting
An initial inspiration is required for Heiner Lammers to devote himself to a concrete object. This initial inspiration can be triggered by his own mood which corresponds with the mood provided by the object. Or it is triggered because Lammers recognises an interesting subject.
Within town motives he sees the cold, the loneliness and isolation which he likes to express. However, Lammers also likes to paint a street cafe. Thereby the contrast to isolation is reflected. Scenes wake up recollections and longings in him. "The feeling of homeliness" in the scenery unites here all chosen representations.
The painter feels spezial love for animals. He has painted the Lammers´family dog Remus, a galgo, necessarily and with spezial pleasure. When representing animals he sees his job as showing the animals in such a way that their being and type is fully reflected. In the finished picture a "snug" kitten, a "daredevil" cat, a "proud" lion, an "attentive" dog or an "inactive" gorilla should be recognised the viewer.
However, all this does not exclude that Lammers is sometimes challenged by other motives such as a still life or peaple to form a picturesque representation.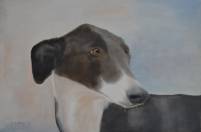 Galgo, oil on canvas 60x40cm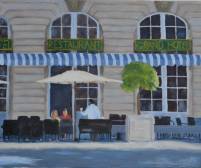 Nancy, oil on canvas 60x50cm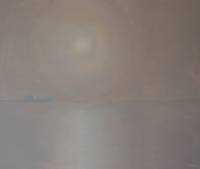 The last sun, oil on canvas 30x60cm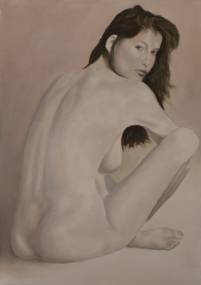 Painted after a STERN-Photo, oil on canvas 50x70cm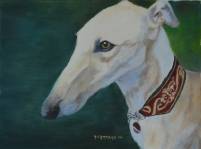 Remus, oil on canvas 40x30cm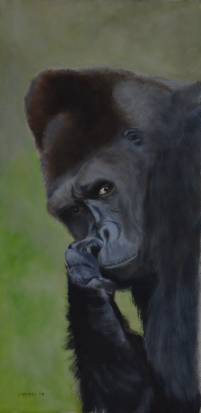 Gorilla, oil on canvas 30x60cm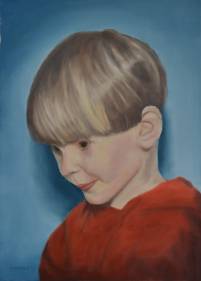 Jann, oil on canvas 50x70cm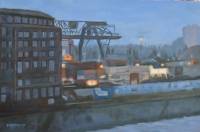 East harbour II, oil on canvas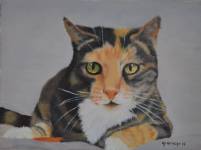 Wild cat, oil on canvas, 40x30cm